I took a shower before writing this, and at the end, you will find out why this is an important information 🙂
This is my first blog post ever, so I will put all my heart into it to share my story with all game developers out there. Hopefully, this will inspire you and give you some good tips and tricks to get more creative and also get an idea about why the catchphrase "steadfast vanishing", that I learned from martial arts training, is always with me
The beginning of a game developer's story
Like Steve Jobs once said:
You can't connect the dots looking forward; you can only connect them looking backwards. So you have to trust that the dots will somehow connect in your future.
Since I can remember, even as a kid, I've liked individual sports like bicycle riding, tennis or boxing.
It was not only about the physical control but also about the fact that I can experience and do things the way I wanted or when I wanted. I strongly believe that this is one of the most important things to consider if you want to be an indie game developer. Keeping a free independent mindset, and self-assurance that you will think of something original and exciting by yourself.
So fast things forward, at 25, I was a manager of a big sports shop and I was actually loving it. I would enjoy all the decision making I had to deal with for coming up with new promotions or ways to get employers more motivated, etc. I would come to work one hour earlier and leave one hour after everybody else. The best thing about this is that I didn't feel like working at all. Sometime later, I got fired. It was hard but also thanks to that I was sure that I had to have my own business. That was August 2016.

Let's fast things forward again. So it's August 2017. At that time, I already had 8 games published in both Google Play and App Store. For the first half of the year, I still hadn't made more than a few dollars. I think many of us can relate to that, right? 😉 But I kept reviewing my dream every day, as I wanted to create some hit game and have this big game studio so I could hire more young people and go really big, and this is still my dream. So, thanks to all new skills I learned while being a game developer, I got hired by another sports shop as an online store manager. Then I was getting a nice paycheck and now I could focus on developing my games while still at work. Perfect, right!? So it was time for…
Downfall: Persistence and dream only think that left
In the beginning of August, my girlfriend of a 3-year relationship, the person I wanted to engage and move out to another country with, left me for another guy. As I later found out, she had been cheating on me for months before our breakup. She, of course, didn't tell me about it herself because she wanted to keep me as a backup (so nice of her). When we broke up, she explained that I worked too much and that I did not give her attention. And that was true, to be honest, but it was also the perfect excuse for her to go on cheating on me.
Bottom line is you should be with a woman who will appreciate your persistence and your purpose in life as a man. 
In the same month, the company I worked at went bankrupt (not my fault, I swear 🙂 ) and I was truly devastated, yet again. The only thing left was a dream and my persistence. I was forcing myself every day to go to the gym and to do some work but I had a two-month set back since I couldn't get my head right.
You should never give up and change for someone else because your dreams are what makes you special, and the only thing that will always be with you.
So, thanks to persistence and believing in myself no matter what, after some time, I felt like I was reborn and started all over again, which is pretty exciting :).
And I got back to the things I love the most which are bicycles and creating new things, that's how I came up with:
Bike Dash: my 10th and best game so far with an addictive gameplay and clear simple graphics.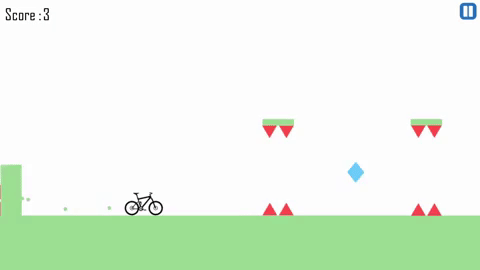 I always wanted to create a game like this, frustratingly-addictive with a one-finger gameplay, great for YouTubers to beat high scores. But it took me over a year and lots of other games that I had already published to get there. Repetition is the mother of learning and the same goes to your imagination. Don't try to make your first game perfect. You need to publish as many games as you can to see and learn what mechanic people like or not because at every game project, you will learn something new and your imagination will grow bigger. The best way to create new games is to model and improve, and here's what it means:
Bike Dash gameplay is based on geometry dash (rhythm mechanic) and Ball Jump (unpredictable levels) published by ketchapp. So, by combining these two things and my love for bicycles,  I ended up creating my best game so far.
You can play my game here:
Google Play: https://play.google.com/store/apps/details?id=net.bike.lamora
App Store: https://itunes.apple.com/us/app/bike-dash-backflip-trick-race/id1331474244?mt=8
Why the shower information was important: Imagination improving tips and tricks 🙂
Let's kickstart it:
So by that book, your imagination works best when your mind is in a free roam state, that you can easily achieve while in bed, taking a shower or on a bus 🙂
Another technique and

answer

why I always delete the first levels I create is called: How to pet a giraffe
Try to think of a way how you can pet a giraffe and you will see that the first ideas that will come to your head are very typical: like a ladder etc. But when your mind throws away all automatic ideas and imagination comes in, the longer you think about it, the more interesting ideas will come to your mind. I highly recommend that you write down these ideas on a piece of paper, then you'll get a better perspective as if you were looking from top to bottom as your ideas get crazier and crazier and therefore more interesting.
If you want to see my other games, here are their links:
Google Play: https://play.google.com/store/apps/developer?id=%F0%9F%94%B7+Negan+Hotshot+Studio:+Fun+Free+Games+To+Play

App Store: https://itunes.apple.com/us/developer/damian-kowalski/id1209841490
And if you feel like I added some value and you'd like to show your appreciation, here is my Patreon link.

Thank you for reading this. I hope I gave you some useful information. I wish you good luck!
Join us!
---
How about writing your own piece for IndieWatch?